This morning our driver was at the hotel to pick us up at 9am.  We had a quick breakfast before that and filled out a really really long survey about Indian tourism advertising… only problem, we have been in a non tourist place and did not watch any tv or see any advertising.
After breakfast Annalise, Kazu, Lucas and I departed for Agra.  We arrived around 1pm and went for lunch to a slightly overpriced restaurant.  After that we checked into the hotel and headed to see the Agra Fort which was beautiful.  We had a guide arranged by our driver.
After the fort we went to pick up Lucas who had to stay back and skip Agra Fort as he had some work to do, and we headed to the Taj Mahal for sunset.  After getting in the view was amazing.  It was just breathtaking!!!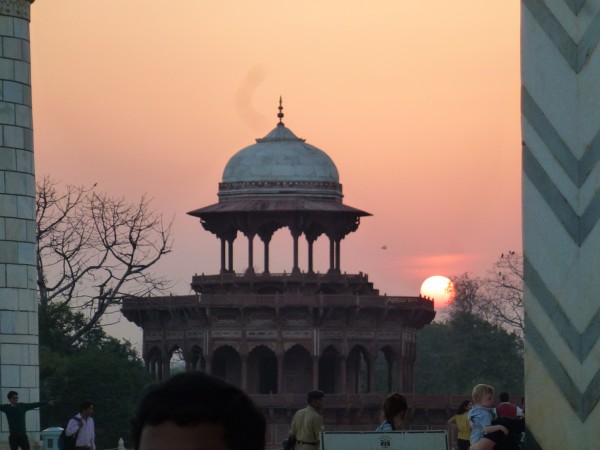 We stayed until the sunset and then headed back to the hotel with a few detours, one at a marble factory, the other at a rug factory – both "conveniently" arranged by our guide.  Upon returning to the hotel we met up with Dimitri and his friend Wu, and we had dinner at the hotel restaurant.  We were exhausted by the whole day and went to sleep as next morning… Taj Mahal at sunrise!